Turbocharge 52V 11.6AH Panasonic Ebike Battery & Charger
Turbocharge 52V 11.6AH Panasonic Dolphin Ebike & Charger with Battery Management System
The Turbocharge 52V battery gives you the most powerful bang for your Bafang motor! It gives your motor kit an extra boost by maxing out the possible amount of voltage that the 48V controller can handle. The 52V Turbocharge Dolphin pack gives you an extra power boost of 200 watts. The added voltage also provides you with a longer range compared to a 48V ebike battery pack with the same amp hour rating.
This sturdy, convenient-sized dolphin case is a traditional ebike battery design made to fit in your battery triangle, typically on your downtube where the water bottle holder is. We offer battery extension cables, so you can choose to mount your battery wherever you so choose!
Oh, and we don't charge you extra for the ebike battery charger. The charger is included in the battery price, because what's the point of buying a battery that you can't recharge (a.k.a. being charged extra for something that you need!)?!
Parts included:
o 52V 11.6AH Lithium-ion Ebike battery with Dolphin Downtube Mounting Design
o Premium, high-quality Panasonic cells NCR18650PF)
o Built-in Battery Management System (BMS)
o Direct (Male and Female) plug connections for any Bafang Motor kit.
o High-quality aluminum charger (your choice of 2A or 3A) with built-in fan & 3-prong grounded US Plug
o Necessary screws for water-bottle frame installation
o Keys (we include a spare for you) to lock your battery into place on the mount
o Durable, water resistant case to protect your battery cells
o Ebike mount that easily takes the place of the downtube water bottle holder
o Easy to use charge port

The battery dimension are: 14.2 x 5.12 x 3.54 inches. Keep in mind, you probably want some wiggle room to be able to take your battery on and off your bike!
52V Ebike Battery Specs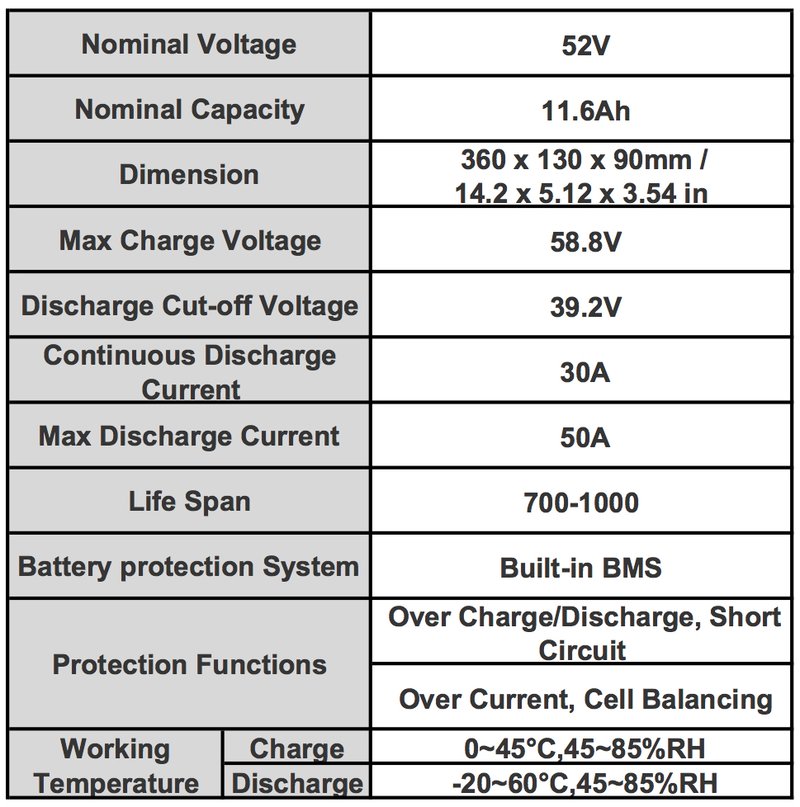 SHIPPING
Ships same day or next day (depending on order time) with expedited priority shipping. We don't want you to have to wait long to start enjoying your new electric life style! Ships from California, USA with insurance, tracking and signature confirmation.