FREQUENTLY ASKED QUESTIONS
Let us help lead you to the answers of our most commonly asked questions.
Will our 750w Bafang Motor Kits fit your bike?
Our Bafang kits are designed to fit bikes with 68-73mm wide bottom bracket shells with a 35mm inside diameter. Affordable adapters are easily available for bikes with 68-73mm wide bottom brackets that have wider than 35mm diameters. This covers the majority of bikes! Unfortunately, please note that our kits do not work with fat tire bikes and some beach cruisers.


How do I figure out what kind of bottom bracket my bike has?
You can search online for details regarding your bike's bottom bracket, specifically many bike manufacturers' websites have information about bike components including bikes' bottom brackets.
You can also measure your bike's bottom bracket as shown in the photo below: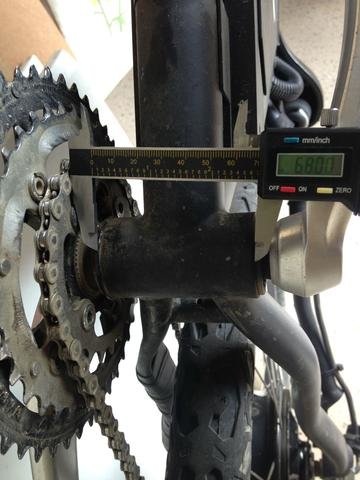 Will I need extension cables for my bike?
Most typical bikes do not need extension cables unless you install your setup in a unique way and choose to mount your battery somewhere other than your bike's downtube (where the water bottle holder is). Trikes and recumbents will definitely need extension cables! However, the exact cables that you need depend on your specific bike and customized install.
Here are the lengths of the stock cables that come with the motor kit to help you determine whether you will need extension cables:
Cables that come straight from the motor (Speed Sensor, Wiring Harness Lead, Battery Leads): 18 inches

The Main Wiring Harness has multiple cables and connections. The cable that connects to the motor lead is 32 inches, and the other cables (display, brake levers, throttle) are each an additional 5 inches.

Battery leads to the motor are approximately 11 inches.

You can always order extension cables from us after you place your original order if you realize you need them based on how you customize your specific setup!
What tools do I need for installation?
To remove your existing bike parts for the mid-drive motor kit installation, you will need: (1) a 15mm wrench or pedal wrench to remove your pedals and (2) a bottom bracket removal tool to remove your bike's bottom bracket hardware.
To install the mid-drive motor kit onto your bike all you will need is: (1) a standard spanner wrench to tighten the kit's lockrings and (2) allen wrenches/phillips screwdriver to tighten crank arms, sprocket, display and throttle.

Above are the tools that you will need for installation on a standard bike. If you have a specialty bike, you may need specialty tools. If you are not very DIY-savvy, you should be able to take your bike and kit to your local bike shop, and the shop should be able to install it for a fee.
What sort of distance/range can I expect?
This depends on which battery you choose. Range on a battery depends on the specific rider and takes into consideration many factors, including the weight of the rider and bike, what type of assist level you are riding in, terrain, how often and to what extent you shift, tire type, and average speed. With the 48v 11.6ah battery, the high range is about 40 miles per battery charge, and the low range (if you ride throttle only without pedaling on the highest assist level) would be about 12 miles.
What is the gear sensor?
The gear sensor attaches to your shifting cable and momentarily cuts off power to your motor while shifting. The gear sensor helps reduce wear on your drivetrain components and broken chains.
How much weight does the BBS02 motor kit add to my bike?
The motor weighs 9.5 pounds and the whole kit including all the parts weighs a total of approximately 13 pounds.
Our 48V 11.6Ah battery including the mount weighs about 7.5 pounds.
Our 52V 11.6Ah battery including the mount weighs about 8.5 pounds.
I lost my keys for my battery can you send me a new one?
Please do not lose your battery's keys! We send two, so you can lose one and keep your spare someplace safe! Your battery keys are unique to your specific battery for security reasons, so we will not be able to make you a duplicate on our end. If you lose your battery's keys you will need to take your battery to a locksmith to have a new one made. When you receive your order, you will find your battery's keys in the padded envelope with your battery charger.
Do you ship to my country?
Currently, we only ship to the United States.